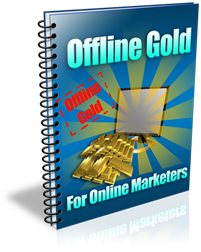 This Offline Gold for the Online Marketer reveals how you can make an excellent income selling online marketing services to local businesses.

Many people who read this report have made $500, $1,000, $1,500 or more their first day talking to business owners.

Includes over 20 pages of new, updated content.

You can still grab your copy of this report at a limited time reduced price here...
Offline Gold For The Online Marketer